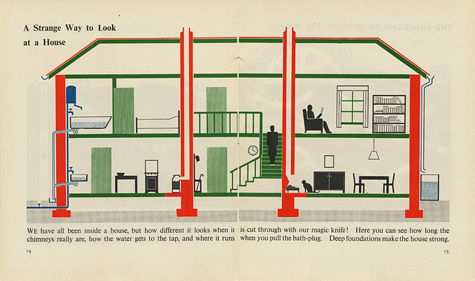 If you could see inside
Among the many things Marie Neurath brought to the design of children's books were clarity, common sense, and an ability to relate to the needs of younger readers.
The original idea for a book about the internal workings of everyday objects came from Otto Neurath. 'Modern implements', he said, 'present themselves usually in boxes, therefore one has to look into the boxes to know how they work'. His ideas were presented in a mock-up for a book proposal 'Just boxes'. Each double-page spread dealt with a particular kind of box: gramophone, greenhouse, diving bell.
Marie Neurath realized, however, that the 'boxes' idea was too constraining, and moved instead to the idea of 'cross section'. As she recalls in her autobiography:
'I ... played with the idea that boxes which look similar from the outside are inside quite different: jack-in-boxes, cameras, radios, etc. But one then got on to things that were too difficult, and so it was not yet satisfactory. I avoided this by giving up the similarity of outer form: so I could take a wasp's nest and a lighthouse, volcano and cave with stalactites.'
The archive at Reading includes Marie Neurath's preparatory work for If you could see inside. It shows how the designing of the book combined thinking about children's needs, and the close connection between language and design. The text was written to relate to the pictures on each double-page spread, and to appeal to a young audience. Marie wrote in a letter to her assistant, Ilse Reisenbach, that she has 'made up a sequence with text in a free way, so that it does not smell of school at all.'
Her description of a house, shown in this spread, uses a 'magic knife' analogy to explain 'cross section'. The analogy is carried through to the last page of the book:
'Can we see inside a balloon?
Let's take a knife and try.
Oh!'
(SW)
area of research: Isotype childrens' books (Walker)